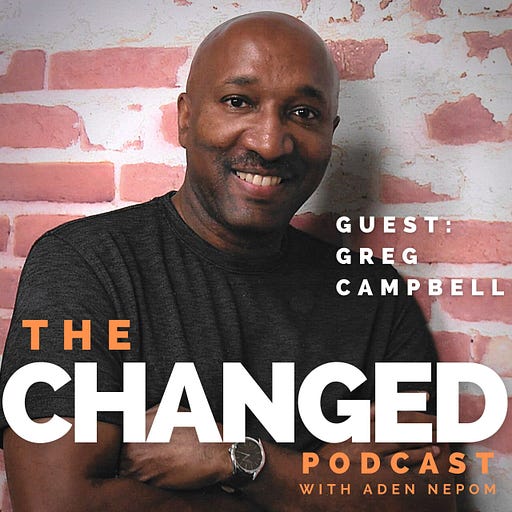 Sep 4, 2021 • 37M
Greg Campbell and the Importance of the people we meet – Episode 46
Featuring guests you care about sharing stories of the fork-in-the-road moments in their lives, so that we can examine what it means to change, be changed and face change in life.
Voice Actor Greg Campbell has a voice as smooth as butter. In Episode 46 of The Changed Podcast, he shares how he found himself making the leap from television to sharing his unique voice narrating films, commercials, and audiobooks. He also opens up about his experience as a black parent who has witnessed so much change and is continuing to witness profound change and the importance of the people who help us along our journeys through life.
Greg Campbell is a Voiceover artist with a distinctive voice. He provided his voice for the 2021 Emmy award-winning documentary Shaw Rising about the oldest HBCU in the south. He has also voiced nationally aired commercials for Ford, during the Kentucky Derby, and Kumho tires featuring NBA All-Star John Wall of the Houston Rockets. He's also the brand voice for the apparel company, Shux.
In our conversation, Greg shared some of his professional journey: starting out in TV in Michigan and ending up performing voiceovers in Florida. He also shared some of his personal journey as a parent and a grandson. Most of all, his story and perspective both serve to highlight how the people we know and connect with throughout our lives, impact the trajectory of our personal experiences, careers and more.
What's in episode 46?
An introduction to Greg Campbell, not just what he does, but how he IS as a human

How Greg started out as a voice actor narrating audiobooks

One of his favorites: Motown Man by Bob Campbell (due to be available in audiobook soon... featuring Greg's dulcet tones), a story that tackles questions of race and identity through the lens of an interracial couple who meet and fall in love in 1991.

A discussion of what has changed in the conversation on race, in our behaviors, and understanding of each other and history since the 90s

What is still changing

The role that family story telling plays in teaching important history

Carla! (and a thank you to Carla)

The importance of great friends

The role of instinct in who and how we trust

A reference to a 1977 episode of The Bionic Woman that almost became its own show, The Bionic Dog!
A few memorable quotes from Greg Campbell
"Change means to me: there's always something better down the road, something, something good on the way. For me, it's always been like that."
"[Since 1991] I think there's been some changes, you know. Unfortunately, when there is change, there seems to be backlash, too often."
"I think that one of the biggest things with change is fear. I think people you know, live too much in fear a little bit. There's a lot of things that's scary out there, that can scare you. But I've always challenged myself, and just try to just keep going, keep moving, and just allow change to come. You got to embrace it, it comes. Some things you know, you can't control. It's part of it, not being able to control it. But, you know, you look at your experiences, and you say, I'm better for it. I'm glad I've tried to have an open mind and live my life that way."
'What you may see in the news nowadays. You know, they talk about what happened in Tulsa, Oklahoma, and all that. My grandmother told me about that stuff. I mean, I already knew."
"I kind of go by Maya Angelou a little bit, you know, the person tells you who they are the first time. Believe 'em, you know. I kind of live by that a little bit. I mean, because down the road, that first impression means a lot. And so, you know, you see it that day. I think that works both ways. It's kind of projected in a negative way. But I think it's in a positive way as well."
Music in this episode
In addition to The Changed theme by Aden Nepom, you'll hear: 
Divine Life Society by Jesse Gallagher, and from Uppbeat (free for Creators!): Time Flies by AK, License code: JZUGQ02CK08JJYG9 and Higher by Soundroll, License code: DTFB5UGVY5W9IW2D


This podcast uses the following third-party services for analysis:

Podtrac - https://analytics.podtrac.com/privacy-policy-gdrp