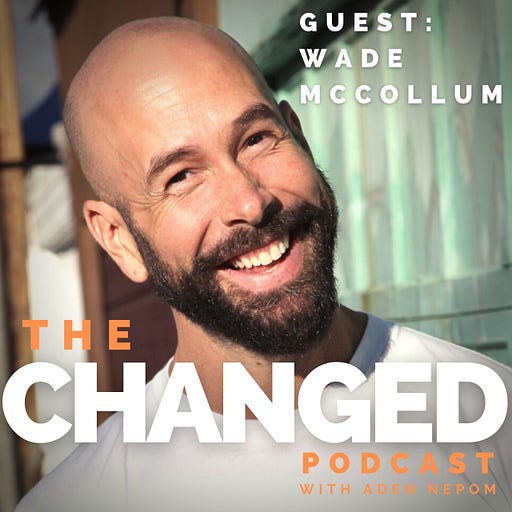 Sep 24, 2021 • 1HR 8M
Wade McCollum and How Your Mundane Might be Someone Else's Life-Changing Moment – episode 49
Featuring guests you care about sharing stories of the fork-in-the-road moments in their lives, so that we can examine what it means to change, be changed and face change in life.
In Episode 49 of The Changed Podcast Wade McCollum, who has acted on Broadway, in film, and on TV, shares his unique experiences with time, the profound & the mundane, and two stories that illustrate the relationship between our expectations, understanding of ourselves, and our realities.
You may have heard of Wade McCollum. As an American film actor, stage actor, composer, and musician, Wade is best known for his roles as Hedwig in Hedwig and the Angry Inch, and Ernest Shackleton in Ernest Shackleton loves me for which he won the Norton Award for Best Actor and was nominated for the Lortel Award in the same category.
These days, he can be found buried in his neuroscience textbooks as a student at the University of Pennsylvania.
Wade is truly remarkable and multi-talented, so it may be no surprise that like previous guests Maraya Brown and Lou Radja, Wade is also an alum of Ashland High School. Like many of the programs at Ashland High School, The drama program at AHS is one of the best (thanks to the brilliant thinking of Betsy Bishop marrying the program to the prestigious Oregon Shakespeare Festival, which continually attracts some of the world's top talent).
All of that is to say that any time I get to sit down and talk with Wade McCollum, it carries simultaneously that sweet feeling of the relief I associate with what is most familiar, AND the excitement of what's new because both of our lives are filled with shifts, changes, and curiosity. There is just so very much to talk about!
This may just be my favorite interview of the season!
What's in this episode?
How this actor's brain handles memorization

Why Wade wasn't able to be part of season 1 as originally planned

How having and recovering from Covid effected Wade

A rich discussion of human adaptation

Why #youchanged would make an excellent complement to give!

The incredible contrast of human interpretation. My mundane can be your profound, and vice versa

How our earliest experiences shape our assumptions about what other people's lives should look like

How we digest other people's stories to represent profound meaning to ourselves as humans

Two stories that demonstrate how our expectations and understanding of reality aren't always well met.

A glimpse into the exciting realm of Medical Music and why Wade is now studying neuroscience after decades of making a living as a performer.
A few memorable things Wade McCollum said:
"I'm up there thinking, you know what, there's 3000 people watching the show right now... they're having that fulcrum experience where they may never be the same. And I'm literally at my office job. The juxtaposition of that is so incredible"
"When you're born into something, the assumption is that's life. That's life, and there's no other, you know, there's no other way to do it, because that's the way it's done."
"They said, 'We're the, we're the different ones. Most people live in a house. And they stay there. And most people don't move around like we do and go from town to town.' Everything just went boom, and suddenly I was the anomaly. And it was so fundamental, I could feel my brain change."
"Humans as a species are like story eaters. Rather than, throw the story up, this is a gross analogy, our tendency is to digest it. And in that process of digestion, there's that refinement, where we're like, 'what nutrients am I going to take from that story that are useful to my particular lens and narrative, what I'm thinking about how I'm looking at the world right now and what I'm working on?' And that's such a beautiful and incredible gift as a human species. what an amazing thing!"
"There's this nonlinear aspect and quantum entanglement piece that where there's this sort of simultaneity. So, in terms of like past or future lives, I get very jumbled up. Because it feels that it's all just happening. And some memories are actually turned out to be future events. So I get very... I just get confused. It feels way more spherical, or, you know, tutori. The geometry of time does not feel like a line for me."
There is only one more episode left in the season!
But, we won't be on hiatus long... The Changed Podcast is cooking up a very exciting mini-series co-hosted by the original inspiration for the show: my step-daughter!


This podcast uses the following third-party services for analysis:

Podtrac - https://analytics.podtrac.com/privacy-policy-gdrp